Scotch Bonnet Chocolate Sauce
We asked Phil to share with us his recipe for Jamaican rum cake and sauces, an extravagant confection that brings a whiff of the Caribbean to that dependable holiday favourite, fruit cake.
Spicy and chocolatey using Woolwich Dairy "Coco Loco" chocolate-goat cheese spread.
Scotch Bonnet Chocolate Sauce
Ingredients
1 cup water
1 cup granulated sugar
1 whole Scotch bonnet (stem removed)
225 g Woolwich Dairy "Coco Loco" chocolate-goat cheese spread
Instructions
Place sugar and water in a heavy saucepan and bring just to a boil.
Once it reaches boiling point, add the scotch bonnet pepper. Lower heat to a simmer to steep pepper and reduce sugar syrup by half. Do not let it boil or burn.
Fill a large bowl with ice and water, to create an ice bath.
Once the syrup has reduced and consistency is smooth, transfer to another bowl, and place that bowl in the ice bath. Continue stirring for 15-20 minutes until the sauce has cooled.
Remove steeped pepper. Fold cooled sugar syrup into chocolate-goat cheese spread a third at a time. Makes approximately 1 cup.
Related Recipes
Nov 17, 2014
| |
Recipes
At Soulyve, the cake is served with a chocolate-Scotch bonnet sauce and toasted-nutmeg crème Anglaise.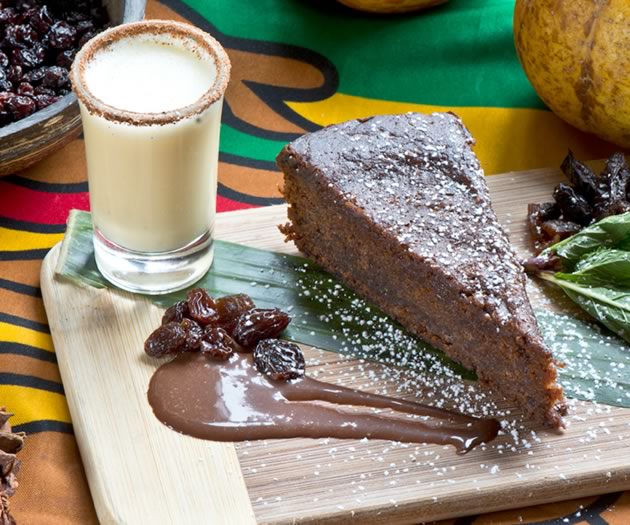 Nov 17, 2014
| |
Back Issues
There are many different versions using different spices and fruit. But the one thing they all have in common is lots and lots of rum.