Soulyve Reggae Wraps
Keep Your Soul Alive with fast, fresh, tasty, nutritious meals at Soulyve Caribbean Kitchen.
The humble roti has never had it so good. Soulyve chef Josh Blake has taken this classic Caribbean fast food staple and transformed it into a piece of Jamaican/Canadian fusion.  JP Perreault of Mono Centre wrote us to say how much he loves the Reggae veggie wrap, a spicy tofu-vegetable curry (chickpeas, potatoes, onions) topped with lettuce, tomatoes, a dollop of cumin yogurt, and wrapped in a soft-on-the-inside, crispy-on-the-outside paratha wrap. The Reggae also comes in a jerk chicken (shown here) and a jerk pork version, this time slathered with onions, cheddar cheese, lettuce, tomatoes, Cajun mayo and a chutney of apples, pineapple and mango. "In a town where it's hard to find good fresh takeout, this is perfect for a filling lunch on the run," says JP. If you order yours in-house, it comes with a side of sweet potato fries and house-made hot sauce for a little extra punch. "This is my 'go to' place for a fast, fresh, tasty, nutritious meal." Thanks JP.
Soulyve Caribbean Kitchen · 19 Mill Street · Orangeville · 519-307-5983 · www.soulyve.ca
Related Stories
Nov 17, 2014
| |
Cooking with...
"Just play with the recipe. Have fun," says Soulyve's Phil Dewar of his Caribbean rum cake ingredients.
Related Recipes
Nov 17, 2014
| |
Recipes
At Soulyve, the cake is served with a chocolate-Scotch bonnet sauce and toasted-nutmeg crème Anglaise.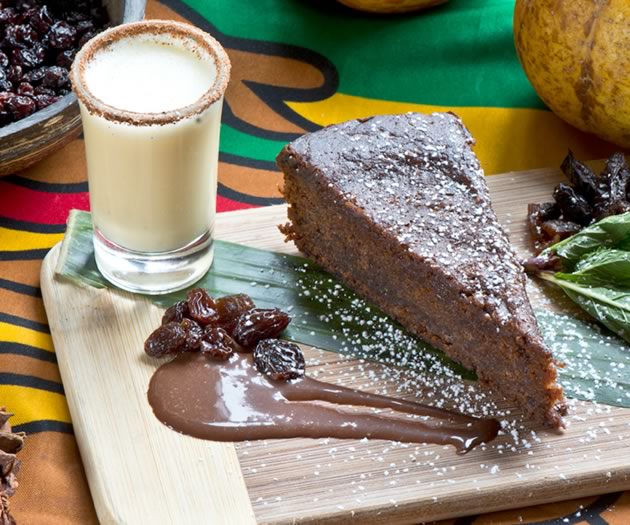 Nov 17, 2014
| |
Back Issues
We asked Phil to share with us his recipe for Jamaican rum cake and sauces, an extravagant confection that brings a whiff of the Caribbean to that dependable holiday favourite, fruit cake.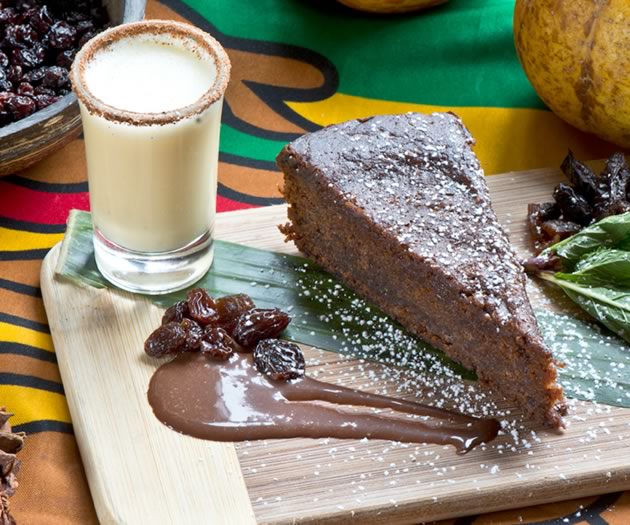 Nov 17, 2014
| |
Back Issues
There are many different versions using different spices and fruit. But the one thing they all have in common is lots and lots of rum.