Autumn Contributors
Meet three of our clever contributors – Ellie Eberlee, Janet Dimond and Ben Rahn.
Ellie Eberlee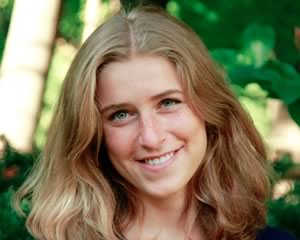 For Ellie Eberlee "home" will always mean Caledon. Ellie grew up at the end of Puckering Lane with her parents, three siblings, three horses, yellow Lab and 20 or so barn cats. Though she has since moved to Toronto, she has vivid memories of salmon stocking in the Credit River, racing down hills at the Caledon Ski Club and eating butternut squash soup out of pumpkin bowls at Belfountain's Salamander Festival. Ellie fell in love with words at Belfountain Public School where she read books about bats, wrote short stories about coyotes and composed songs about brook trout – and where her sixth-grade teacher, Mr. Bibby Smith, told her she was going to be a writer when she grew up.
Ellie went on to study literature at Middlebury College in Vermont and begins her master's in English at the University of Oxford this fall. In her first two pieces for In The Hills, Ellie meets with a debut novelist fascinated by the relationship between women and water, and an oil painter who unites the classical and contemporary.
Janet Dimond
In The Hills' events and copy editor Janet Dimond has a hard time turning off her bad-punctuation radar. She has been known to erase erratic apostrophes from sidewalk sandwich boards when no one is looking. "It's true, but text and message errors from friends and family are exempt."
If you have read articles in the magazine, Janet has gone over them with an eagle eye – catching mistakes others have missed. Her love of languages and communication first led 30 years ago to translation, then instructional writing, presenting seminars, transcription and mentoring before eventually editing found her instead of the other way around.
Janet also manages our What's On calendar of events in print and online. She longs for a time when Covid dissipates, the world opens a little more and events return to the level we once covered. She looks forward to concerts and theatre, travel and movies, walking and hugs – and further exploring her new home of Guelph.
Ben Rahn
Ben has been photographing architecture and interiors for more than 20 years. He founded A-Frame Studio in 2003 out of a desire to combine his love of design with his keen photographic eye. Ben splits his time between the Brooklyn studio he founded while living in New York and his lead studio in Toronto where he lives with his wife and their two children. Architects and designers hire Ben's studio to tell the story of their spaces, using the photographs for portfolios, award submissions and publication.
Ben's work has been recognized internationally and has appeared in magazines such as Dwell, Wallpaper, Interior Design, Condé Nast Traveler and The New York Times. His portfolio includes several Headwaters gems, two of which have appeared in In The Hills. Images in this issue's "At Home in the Hills" are Ben's first full commission from us.
Ben has a design-lover's soft spot for concrete, Corten steel and vintage factory windows. He feels quite at home on top of a tall building at sunrise.